A photographic record of building a Japanese garden in the UK
You can find many sites dedicated to Japanese gardens on the internet, even quite a few in the UK. But actually finding detailed information to build one can be challenging. I hope this site will help you build your own even though this one is far from perfect.
I have visited Japan many times and grew bonsai trees so I had wanted to have a Japanese garden in my house for many years and this is the result.
Enjoy!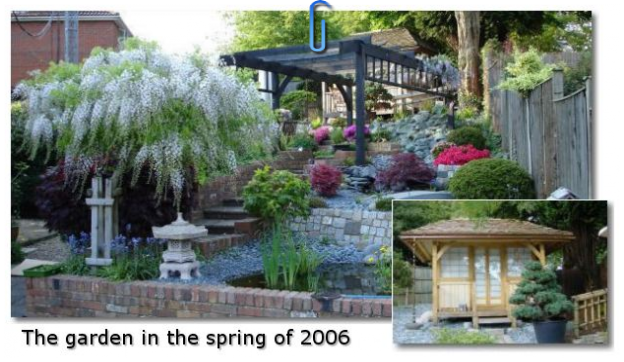 Some of my feedback:
"Your garden is simply beautiful. at least you made a reality what millions out there could only dream of. IU am an oriental but I have this deep fascination about Japanese gardens. Unfortunately i can only go on dreaming."

"You have such a passion for Japanese gardens and I just wanted to let you know how inspired I am!"

"I've really enjoyed your various exploits on the web - the teahouse, Japanese garden and the extension. I'm building a house at the moment and want to include a Japanese garden so your projects have been inspirational."

"I just wanted to let you know that I have just spent a couple of hours looking at both your Japanese Garden & your Tea House, I must say....what a beautiful job...both Garden & Tea House are just gorgeous"
My Japanese garden in April 2011