Starting point for the Japanese Garden
This was the starting point for my Japanese garden - a long border with a significant incline and ideal to form the basis of a stream. The pergola has been in the garden since I built it in the late 1980s and though you can't see it in this photograph due to the covering of wild rose, it was designed with a Japanese theme which you can see in other photos on the site. It took me several weekends to clear out the jungle that previously occupied the space and divide the ground into several levels which I have called the "lower level", "mezzanine 1", "mezzanine 2" and "iris pond". It was my plan for the lower level to contain a pond, the mezzanine levels and the upper level to contain a stream connected to an iris pond. A complicated build I think - little did I know how complicated!
The Palmatum on the mezzanine 2 level was moved from the lower level and is only in a temporary position. I had to cut some major roots to move it so it will need to some tender loving care for a time. In its final position it will be placed lower down, as only small plants will placed at top of the run (in front of the Green Mountain!) to help maintain perspective.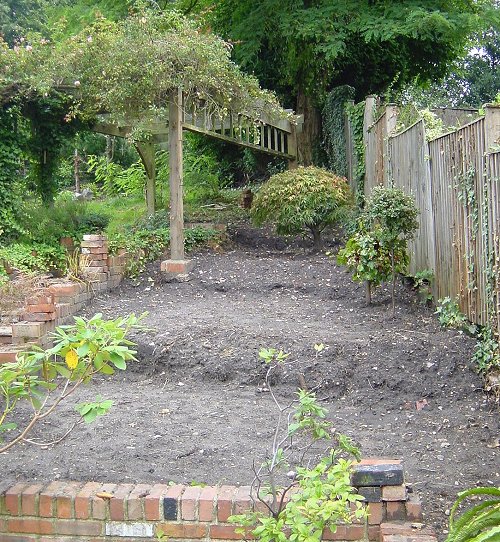 The starting point looking upwards towards
the eventual location of the iris pool.
At this point I needed to to think about the design of the garden. One of the fortunate things about never getting round to a project is that I had a pretty good idea as to the layout from the many ideas I had had over the previous few months.